Metals Overview
Dual Machine Corporation is a full service production machining company and contract manufacturer. We make a broad list of high precision parts and components, from a wide assortment of metals, for many different industries. We produce prototype parts, as well as short run to high volume production parts, and we are ISO 9001:2015 and AS9100:2016 Certified.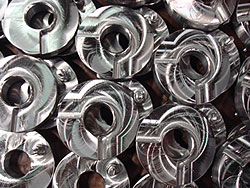 We commonly work with many different types of metals, including:
Steels

A286 Steel
303 Stainless Steel
304 Stainless Steel
4140 Steel
12L14
and more.

Alloys

Alumel
Chromel
Inconel
and more.

Brass
Bronze
Aluminum
If you don't see a metal listed that you need, contact us to discuss it. For more details about our machining and manufacturing capabilities, and our custom parts production, see:
Dual Machine Corp. – Performance Over the Years!
Contact us today to learn more about our Klincher products, our machining and/or our custom parts manufacturing capabilities and see how we can help you improve your product, process or application. Call 317-923-4786 or complete the form on our Contact Us page.