Machining Services
Dual Machine Corporation is a full service production machining company and contract manufacturer. We produce a diverse list of parts and components, from an assortment of metals, for many different industries.
Watch our Company Overview Video!
We produce both prototype parts and short run to high volume production parts using the following types of equipment:
Swiss Machining Centers

When maximum speed and efficiency is needed.
1.25" maximum diameter

Horizontal and Vertical Mazak CNC Machining Centers

Late model, high precision Mazak equipment.
Milling and Turning Capabilities.
3.00" maximum part diameter for lathe / horizontal machining.
20" x 40" table with a 20" rise on vertical machining center.

Traditional Rotary Screw Machines

Well maintained for consistent and reliable production.
1.25" maximum diameter.
We also have all the necessary secondary equipment to handle your project. We also have Strategic Alliances for some additional services, including welding, brazing, plating, heat treating, etc. With all the services we offer and/or coordinate, you can eliminate working with multiple suppliers.
We also only employ skilled machinists and production personnel. Located near downtown Indianapolis, and with a multitude of manufacturing facilities all across central Indiana, we have a very large talent pool to pull from.
We then combine our skilled workers with our manufacturing techniques and processes to provide an efficient and cost-effective production of finished parts. We are also ISO 9001:2015 and AS9100:2016 Certified.
We commonly produce parts for some of the demanding applications and industries below:
Aerospace / Aviation
Turbine Engines
Automotive Turbochargers
Electrical Regulators
Centrifugal Clutches
Military Applications
High Temperature Applications
High Vibration Applications
We also work with many different types of metals, including:
Steels (A286, 303 Stainless, 304 Stainless, 4140, 12L14, and more)
Alloys (Alumel, Chromel, Inconel, and more)
Brass
Bronze
Aluminum
Swiss Machines / Machining
Swiss Machines are a unique brand of lathe turning machine.  They allow for high precision, high volume, fast and efficient machining, with very little manual assistance from an operator.  They are durable and reliable machines that can cut complex shapes and hold very tight tolerances.  This type of machine was originally developed in Switzerland to produce the small, high precision shafts and components needed in the Swiss watch making industry, but they now commonly produce all sizes of parts.
Screw Machines
Screw Machines are the workhorses of the turning machine industry.  When well-maintained, as ours are, they will run forever, producing high quality parts at a rapid rate.  Their rotary indexing process of machining machines different aspects of the part at the same time, which maximizes output volumes.  Our screw machines are ideal for high volume parts but low volumes can also be produced economically.
CNC Milling & Turning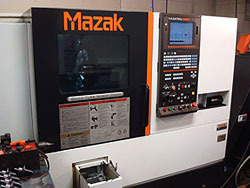 For high precision parts that require milling and/or turning, our CNC Machining Centers are the ideal solution.  These are feature-rich machines offering a wide range of machining capabilities, and can handle a wide range of raw stock and final part sizes.  CNC machining can be used to produce low volume or high volume parts as well as prototype and small run parts.
Dual Machine Corp. – Performance Over the Years!
Contact us today to learn more about our machining and custom parts manufacturing capabilities and to see how we can help you improve your product, process or application. Call 317-923-4786 or complete the form on our Contact Us page.