Custom Parts
Dual Machine Corporation is a full service production machining company and contract manufacturer. We produce a number of precision parts and components, from an assortment of materials, for many different industries. We produce both prototype parts and short run to high volume production parts and we are ISO 9001:2015 and AS9100:2016 Certified.
Watch our Company Overview Video!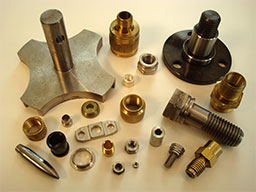 We offer both Mazak CNC equipment and Swiss machining equipment, which provide more control, accuracy and higher precision capabilities. We also have all the necessary secondary equipment to handle your parts manufacturing and production needs. We also have Strategic Alliances for some additional services, including welding, brazing, plating, heat treating, etc.  We also employ skilled machinists and production personnel and we combine them with our manufacturing techniques and processes to provide efficient and cost-effective production.
We commonly produce parts for some of the demanding applications and industries below:
Aerospace / Aviation
Turbine Engines
Automotive Turbochargers
Electrical Regulators
Centrifugal Clutches
Military Applications
High Temperature Applications
High Vibration Applications
We also work with many different types of metals, including:
Steels (A286, 303 Stainless, 304 Stainless, 4140, 12L14, and more)
Alloys (Alumel, Chromel, Inconel, and more)
Brass
Bronze
Aluminum
For more details about our machining and manufacturing capabilities, see:
Dual Machine Corp. – Performance Over the Years!
Contact us today to learn more about our machining and custom parts manufacturing capabilities and to see how we can help you improve your product, process or application. Call 317-923-4786 or complete the form on our Contact Us page.