Advantages / Quality
In addition to being the home of the Klincher™ Locknuts and the Klincher Kapscrews™, Dual Machine Corporation is also a full service machining company and contract manufacturer. We produce a diverse list of parts and components, from an assortment of metals, for many different industries. Our experience in making precision parts and components for demanding industries has been proven and is respected by many large manufacturers.
Watch our Company Overview Video!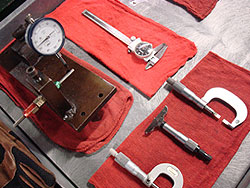 Our experienced personnel, in-house machining and other capabilities, combined with our partner resources, make us uniquely suited for manufacturing a broad list of parts. With the services we offer, you can eliminate working with multiple suppliers. We combine our skilled workers with manufacturing techniques and processes to provide an efficient and cost-effective production of finished parts. We are also ISO 9001:2015 and AS9100:2016 Certified.
To verify our ISO Certification, you may contact our ISO Registrar, NQA, at the following website:
http://www.nqa.com/en-us/contact-us/get-in-touch
For more details about our machining and manufacturing capabilities, and our custom parts production, see:
Dual Machine Corp. – Performance Over the Years!
Contact us today to learn more about our Klincher products, our machining and/or our custom parts manufacturing capabilities and see how we can help you improve your product, process or application. Call 317-923-4786 or complete the form on our Contact Us page.